We offer 42 tatami matted Japanese rooms with a bathroom for each. Though Japanese rooms are generally compactly designed to realize cozy atmosphere, larger sized Japanese rooms can be also arranged depending on the size of groups in our hotel.
Room Facilities and service
◎
Air-conditioner
◎
Refrigerator
◎
TV
◎
Electric pot
◎
Safety box
◎
Wash-toilet system
◎
Bedding
◎
Hair drier
◎
Slippers
◎
Private bath
◎
Bath towel
◎
Face towel
×
Mineral water
◎
Green tea
◎
Toothbrush
○
Body wash towel
◎
Tabi(Japanese socks)
◎
Razor(For men)
△
Pouch cosmetics(For woman)
◎
Shampoo and conditioner
○
Lotion and milky lotion
◎
Housekeeping
△
Bathrobe
◎
Wakeup call
◎
Bedmaking
◎…Allroom
○…Superior room and Deluxe room only
△…Deluxe room only
---

Kyo-kaiseki is an artistic full-course Japanese cuisine refined as the traditional Kyoto way putting importance on seasonal beauty.Along with Kyo-kaiseki, we can also serve pot dishes such as meat, fish stew, sukiyaki, shabu-shabu, etc. For more in-detail information, please feel free to contact us in advance.
*all photos are sample.
*Reservation for meals is required in advance.
SPECIAL REQUEST
Guest staying 2nights or more can choose available from the following menus.(Only Guests who reserve dinner and breakfast.)
Dinner

〝SUKIYAKI〟 Sashimi,vegetable,egg,rice,pickles,dessert etc.
〝SABU-SHABU〟 Sashimi,beef,vegetable,rice,pickles,dessert,etc.
〝KINKAKU NABE〟 Sashimi,Pork,Chicken,Seafood,Vegetable,Rice,Pickles,dessert,etc.
〝BOTAN NABE〟 Sashimi,boar,vegetable,rice,pickles,dessert,etc
〝BARBECUE〟Sashimi,beef/seafood,vegetable,rice,pickles,dessert,etc.
*For more detail,please click PDF below.PDF

Breakfast

〝Japanese style〟 Fish,Tofu,Rice,Miso-soup,Pickles,etc.
*Some dishes may not be available at certain times of the days.
*About special request
However,people with food allergies and solo tourist are excluded.
Cuisine for Kid's

Kid's menu A
- same as adult menu but smaller portion
- price: 70% of adult menu

Kid's menu B
- includes: hamburger steak, fried shrimp, assorted vegetable, rice and fruits.
- price: 50% of adult menu
If there is anything you cannot eat, please let us know when you make a reservation.
We are afraid that we will not be able to fulfill your request if it's the day of accommodation
Thank you for your understanding.
---

Our hotel has large communal bath spaces exclusively designated for men and women. Guests can experience the ultimate in relaxation while enjoying spectacular mountain views. *Only one of the large public bath or the medium bath is open.
---

As homage to the historic background that our hotel location was former ancient art village, and to our founder, who was an artist as well, Japanese paintings, calligraphy, ceramics and other various forms or art done by eminent artists are exhibited at every corner of our hotel. Guest will have a closer look at those masterpieces somewhat like visiting art gallery.
---

The name "Nenrinbo" means "the hotel to learn in nature." Such will has been passed down from generation to generation in the founders' family, which can be traced back to our ancestor, Mr. Toshio Mabuchi, who was an oil painter.
---

SEKAKU means the hidden places of refined Japanese beauty away from a secular world. Since Nenrinbo has long been in pursuit of a sophisticated Japanese style hotel, which is located on the edge of the ancient capital city, Kyoto, guests can feel relaxing natural atmosphere surrounded by magnificent mountains with seasonal beauty on all three directions.
---

---

Open-air swimming pool is an additional attraction of our hotel. Only shortcoming we can imagine about Kyoto is its lingering summer heat, however, guests can enjoy healing cool breeze surrounded by rich nature. The staying is available free. (Only summer season July and August)
---

Four historic temples such as Kouetsu Temple, Jyoushou Temple, Genkouan Temple, and Ginshou Temple are situated near by. During the Tokugawa Shogunate period, Takagamine Village was prosperous as an art village.Also,You can get to KINKAKUJI-Temple "Golden pavilion" in about 30minutes on foot.A taxi will take you there in approximately 10 minutes.


You can download the tourist information sheet PDF version.
+ Yoroshiosu, Kyo no Ryokan
Helpful information on The Kyoto Ryokan Hotel Association Official Website
http://www.kyoto-ryokan-en.com/
---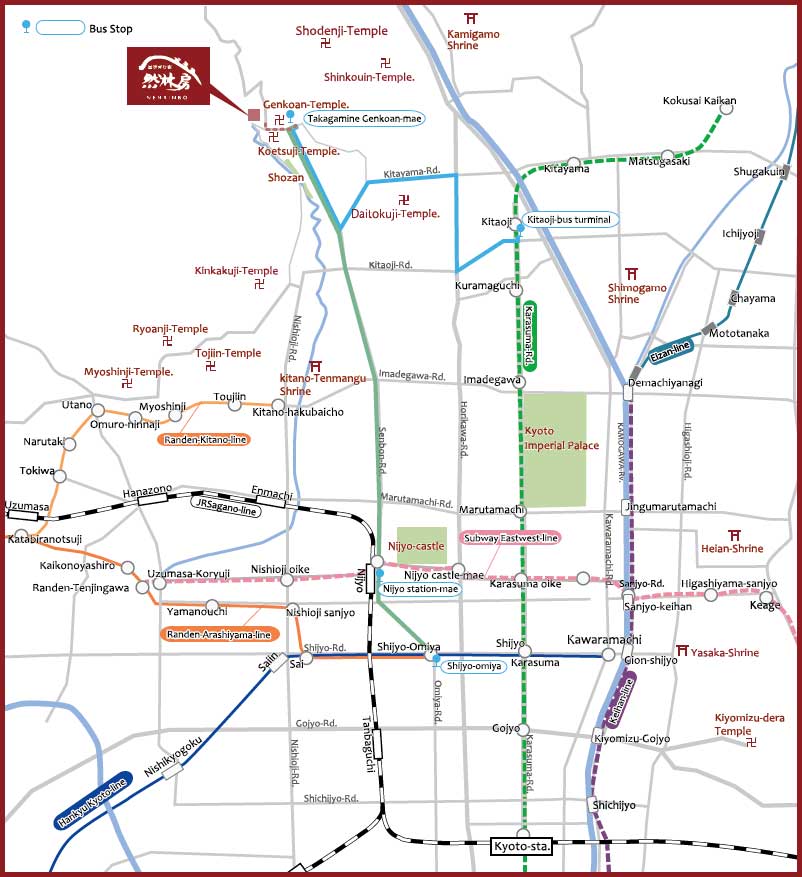 Access Map
You can see it spread when you click an image.
Would you like to have stress free sightseeing without your luggage?
Carry service between Kyoto station and Hotel.
・SINKANSEN Hachijo Entrance →
Delivery service (LINK)
・JR Kyoto Station Central Entrance B1 →
Carry Service (LINK)


Access to "Nenrinbo"
Please take a subway KARASUMA line to Kitaoji Station, and take a taxi or bus at Kitaoji bus terminal.As for bus, please take the bus No.Kita1 "北1", bound for Gentaku and then get off at the bus stop named "Takagamine Genkoan-mae - 鷹峯源光庵前". It will be about 18minutes trip from Kitaoji station to our location. From the bus stop, you can get to our hotel in about 5 minutes by walking. If you prefer and you are in a rush please take a taxi. I attached a map with this sheet, so show the taxi driver.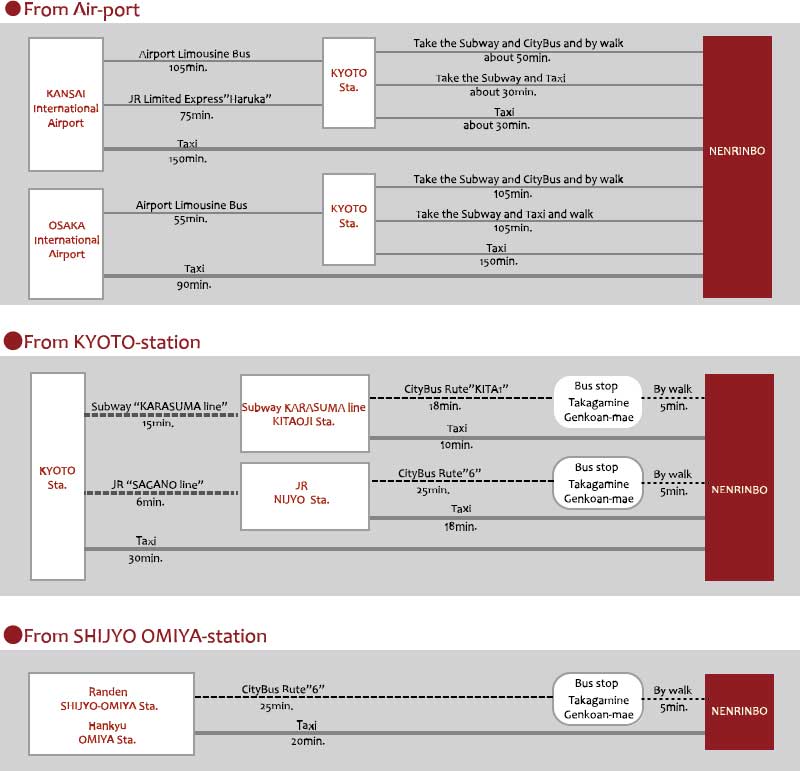 You can see it spread when you click an image.


---